WHY CHOOSE OMEGATURF?
OmegaTurf has the most satisfied customers in the San Diego region. Read our Yelp reviews to get an idea of just how well received we are in the community. We count on having satisfied customers spread the word and we don't spend a fortune on marketing—savings we can pass on to the customer. Synthetic Turf is Your Best Water Conservation Solution. Southern California is in the worst drought in history and is facing severe water restrictions.
Maintaining a lush, green lawn is no longer an option. Artificial lawns require little to no water to maintain and keep clean. Outdoors watering accounts for up to 70% of typical usage. That makes synthetic grass landscaping a viable conservation solution, which allows you to meet the cutback requirements and save money on your water bill. Besides, you will have a beautiful lawn 365 days a year! Done correctly, a synthetic grass lawn will provide an attractive and useful space for your home for twenty years or more. Use our Contact Us page to tell us what we're doing right or what we can improve on.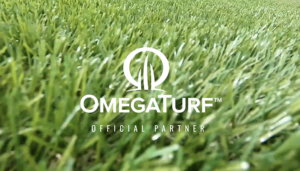 OMEGATURF IS THE OFFICIAL TURF AT THE BEACHLIFE MUSIC FESTIVAL
OmegaTurf is concert-proven, check out this Omegaturf short-clip at the BeachLife Music Festival.
OMEGATURF IS THE OFFICIAL TURF OF KAABOO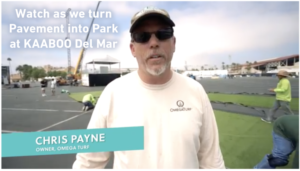 This year we will be laying down another park over the pavement at KAABOO Del Mar. Come visit us at our Kiosk, kick your shoes off, stay awhile. Most people are amazed at how real our turf looks and feels like real grass (without the bugs and dirt).
OMEGATURF IS AN INDUSTRY LEADER
OmegaTurf has been a leader in the synthetic grass landscaping industry since 2006, installing the highest quality products, backed by our 100% satisfaction guarantee. We are fully-licensed, bonded and insured to protect you and your investment.
Check out our aerial flyover video
SYNTHETIC TURF CONSERVES WATER AND IS VERY AFFORDABLE